10/21/17 Melissa marries John Muñoz in a ceremony and reception at the Howard House in Decatur, GA.
8/11/2017 Tawanna has been suffering with a terrible coughing condition and for the past year the Tallahassee doctors have not been able to determine the cause. She went to Shands and has gotten an official diagnosis that she suffers from Bronchiectasis, a condition where the airways become damaged and scarred, which causes them to widen and become flabby. They hope to provide a regimen to treat it, with surgery being the last resort.
6/25/2017 David suffers a heart attack at home on Sunday morning. The doctors placed three stents in his left anterior descending artery (a.k.a. "the widowmaker.") The only warning he had was a feeling like a cramping at the top of his stomach between his rib cage. This occurred after dinner the two nights before, so he mistook it as indigestion or gas.
After a visit to the cardiologist, who recommended watching the Netflix documentary "Forks Over Knives," he began a plant-based diet in order to reverse both the plaque buildup in his arteries and his pre-diabetic condition.
5/19/2015 Dad sells the house on Hibbard Way to Jimmy & Pat Wilder. He marries Tawanna Hay, May 19, at Adams Memorial Chapel, First Baptist Church in Tallahassee FL. They move to their new home on Dove Road.
5/21/2015 Beth is struck by a vehicle and suffers dislocated shoulder and three fractured ribs.
9/24/2014 Mom passes away on September 24 at her home in Tallahassee.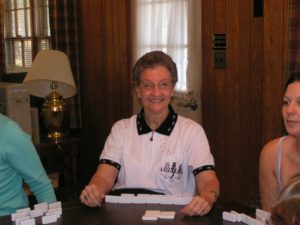 Diane loses her job at Georgia Resource Capital. Decides to retire.